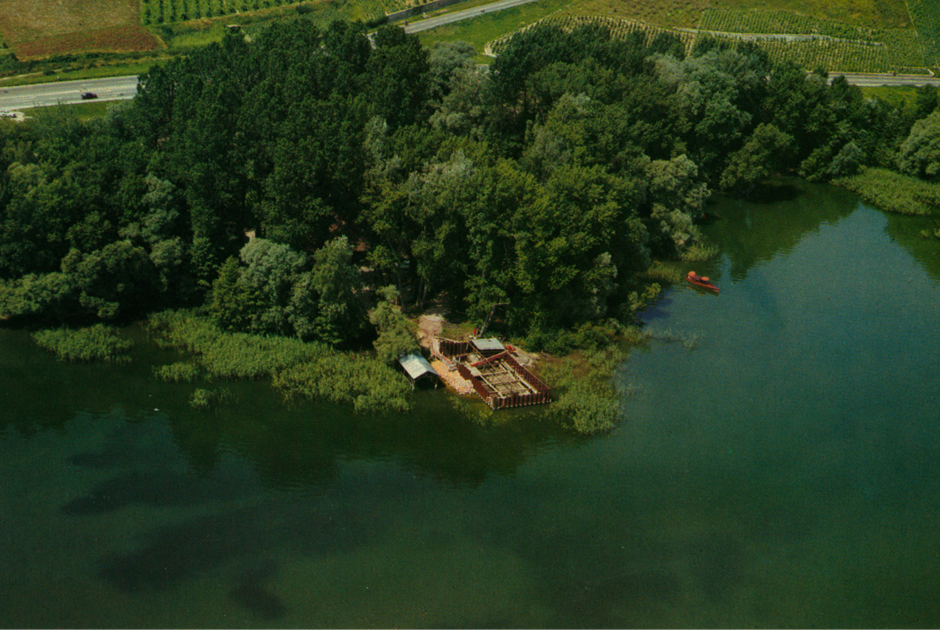 CH-NE-06
aerial view of the sheet-pile box surrounding the excavation of the Neolithic station at "La Saunerie", 1964-1965 © laténium
 Auvernier |  La Saunerie
Short description
The site was discovered during the exceptional drought in the winter of 1853-1854. The site is situated in the bay of Auvernier, which during Prehistory used to be the most densely exploited and populated area of Lake Neuchâtel. It consists of at least four successive settlements, occupied between the Middle Neolithic and the end of the Neolithic period in the Late Cortaillod, Lüscherz and Auvernier-Cordé phases. With an estimated surface area of 3.2 ha, the site of La Saunerie, now completely backfilled, is the largest of all the sites in the Bay of Auvernier.
 Neolithic
 4th - 3rd millennium B.C.
 Lake Neuchâtel
 428 m.a.s.l.
Size of the site 1,52 ha / approx. 2 soccer pitches
Size of the bufferzone 1,63 ha / approx. 2 soccer pitches
Special features & Highlights
In 1964-1965, a rescue excavation in a sheet-pile box made it possible to study a surface area of 200m² and to define the Auvernier-Cordé group, based on the presence of corded ceramics and flint daggers from Grand-Pressigny.
Pile Dwellings up close
The finds of "la Saunerie" are exhibited in the Laténium.
Laténium Parc et musée d'archéologie
Espace Paul Vouga
2068 Hauterive
+41 32 889 69 10
latenium@ne.ch
to the website