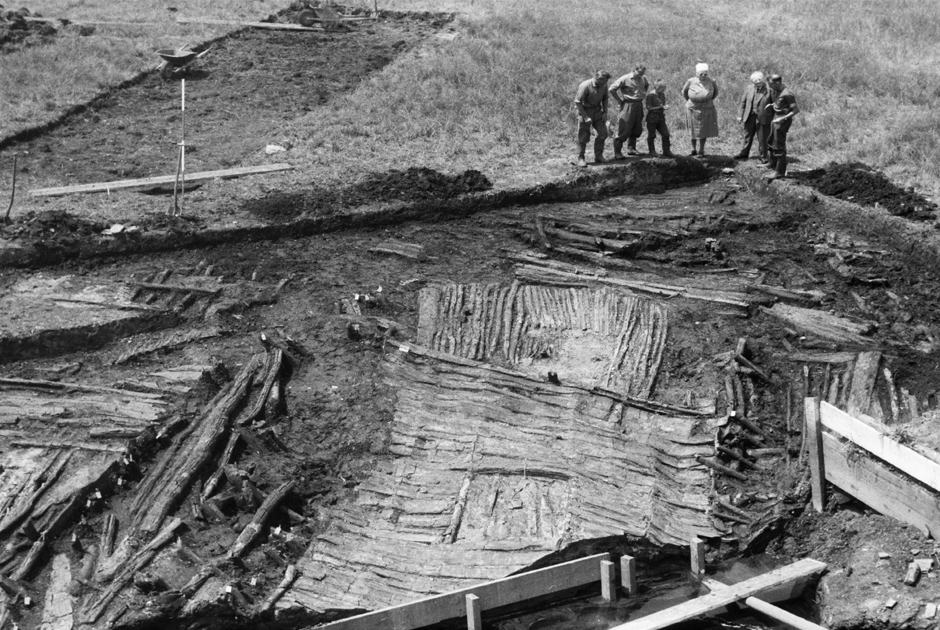 CH-TG-04
The "pile-dwellings" in Lake Egelsee at Gachnang-Niederwil during the excavations of 1962/1963 © Amt für Archäologie Thurgau
 Gachnang Niederwil |  Egelsee
Short description
As early as in 1862,in the course of peat extractions at the dried-up Lake Egelsee, the remains of a Neolithic settlement were found. The following excavations produced the outlines of houses with well-preserved wooden floors. In 1962 and 1963 a team sent by the University of Groningen uncovered approximately a third of the known settlement. It contains about 30 houses in six rows, with small aisles between them. The chronology of the wooden floors and the layers of the hearths reveal that the buildings had been renewed various times between 3660 and 3585 BC.
 Neolithic
 3660–3585 B.C.
 peat bog Egelsee
 402 m.a.s.l.
Size of the site 2,97 ha / approx. 4 soccer pitches
Size of the bufferzone 5,49 ha / approx. 8 soccer pitches
Special features & Highlights
In collaboration with the University of Groningen (NL), the pile-dwelling site was one of the first to be investigated in an interdisciplinary manner.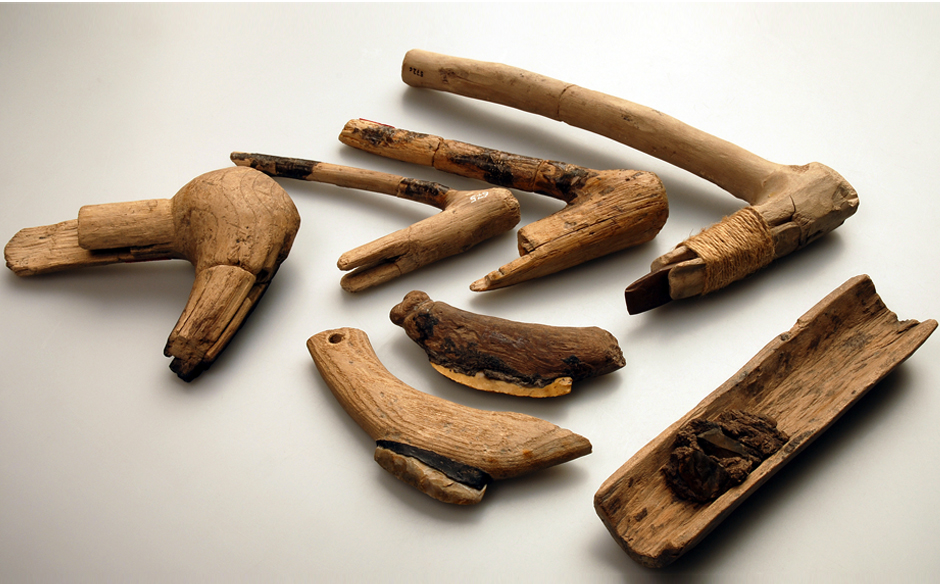 Wooden finds, among which a handle with a mounted copper blade © Amt für Archäologie Thurgau
Current activities
The preservation of the site is monitored by the office Amt für Archäologie.
Pile Dwellings up close
On site a panel informs about the archaeological site.
Selected finds can be visited at the Cantonal Museum of Archaeology.
Museum für Archäologie Frauenfeld
Freie Strasse 24
8510 Frauenfeld
+41 (0) 58 345 74 00
to the website

Opening hours
Tue–Fri 2–5 h pm
Sat & Sun 1–5 h pm