FR-39-01
Clairvaux, station XIV. Excavation encased in caissons (sheet pile boxes) with groundwater depletion © CRAVA, Pierre Petrequin
 Clairvaux-les-Lacs |  Le Grand Lac de Clairvaux
Short Description
The first Neolithic French "lacustrine city" was discovered in 1869 in Clairvaux, when a substantial number of wooden piles became visible in the limestone of the Grand Lac. Since then, archeological knowledge increased greatly thanks to excavations carried out in the wetland of the lake (1970-1984 and 2003-2009). In the waterlogged sediment, archeologists have counted 17 pile dwellings, revealing the density of establishments between 3900 and 800 BC, and the remarkable quality of conservation of the organic remains.
 Neolithic / Bronze Age
 3900 - 800 B.C.
 Clairvaux Lake
 525 m.a.s.l.
Size of the site 15,20 ha / approx. 21 soccer pitches
Size of the bufferzone 103,05 ha / approx. 182 soccer pitches
Special Features & Highlights
First Neolithic pile dwelling discovered in France.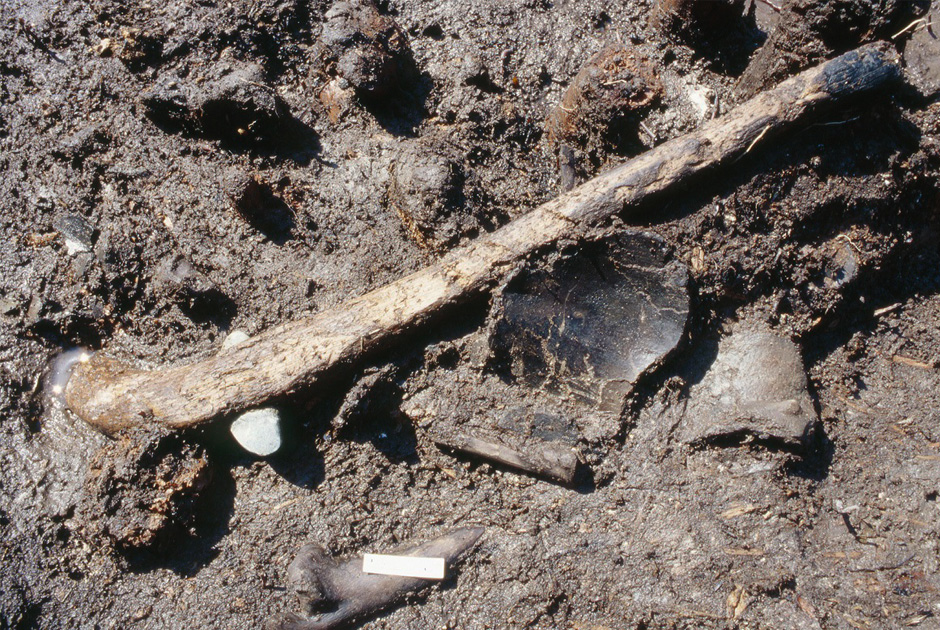 Clairvaux, station VII. Helved axe in situ © CRAVA, Pierre Pétrequin
Pile Dwellings up close
Espace archéologique de Clairvaux-les-Lacs
Salle des fêtes
9 rue du Parterre
39130 Clairvaux-les-Lacs – France
Opening hours and informations:
to the website
33(0)3 84 25 27 47 / 33(0)7 76 96 35 02

Guided tour « plage-expo » by reservation