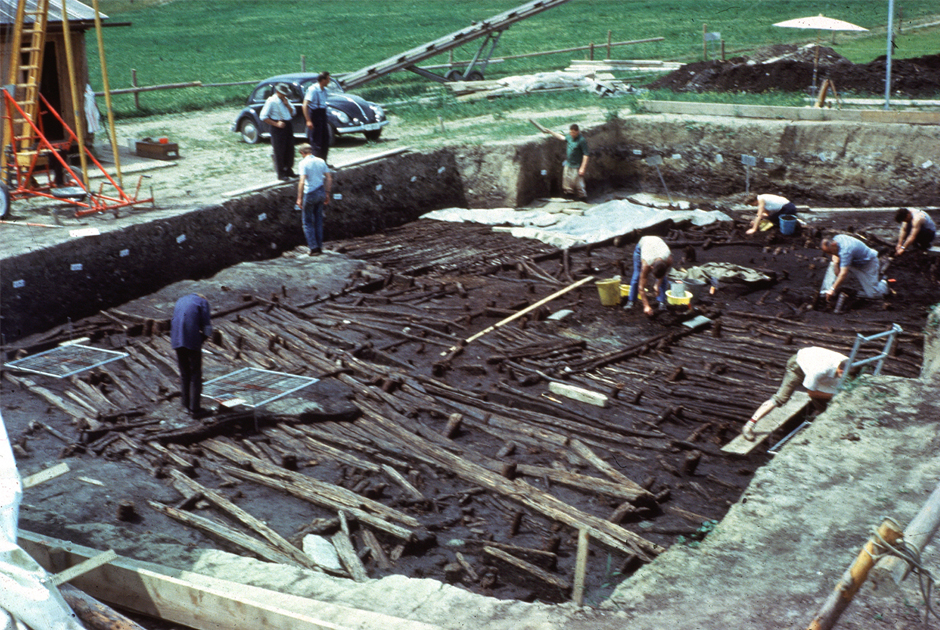 DE-BW-21
Exposed Neolithic living floors during the excavation of 1960 © Landesamt für Denkmalpflege Baden Württemberg im Regierungspräsidium Stuttgart (LAD)
 Blaustein |  Ehrenstein
Short Description
The site is located in the North West of the city of Ulm, in the valley of the River Blau. It was discovered and partially excavated by Oskar Paret, in the year of 1952. A second excavation followed in 1960, by the Department of Antiquities of Baden-Württemberg, under the direction of H. Zürn. Ehrenstein is among the best preserved pile dwelling sites in southern Germany. The thick cultural sediments consist of at least five construction periods that span only one hundred years, complete with dwelling sites, fire pits and ovens.

 Neolithic
 3700 - 3688 B.C.
 Valley of the "Blau"
 484 m.a.s.l.
Size of the site 1,33 ha / approx. 2 soccer pitches
Size of the bufferzone 2,42 ha / approx. 3 soccer pitches
Special Features & Highlights
The site plays a key role in the research history and the understanding of the "Schussenrieder Culture". This is the only site of this culture included in the UNESCO Pile Dwelling World Heritage list, and one of the few existing examples of a pile dwelling located on a riverbank.
Double drilled and ornamented buttons © Landesamt für Denkmalpflege Baden Württemberg im Regierungspräsidium Stuttgart (LAD), H. Schlichtherle
Current Activities
The archaeological sediments are covered by a layer of clay, and the Department of Antiquities and Monuments monitors the site.

Pile Dwellings up close
A selection of finds can be visited at the Museum Ulm and in the city hall of Blaustein.
Museum Ulm
Marktplatz 9,
89073 Ulm
to the website
Rathaus Blaustein
Marktplatz 2,
89134 Blaustein
to the website
further information and a closer look to neolithic times:
Steinzeitpark Ehrenstein
Blaubeurer Str. 325,
89081 Ulm
to the website