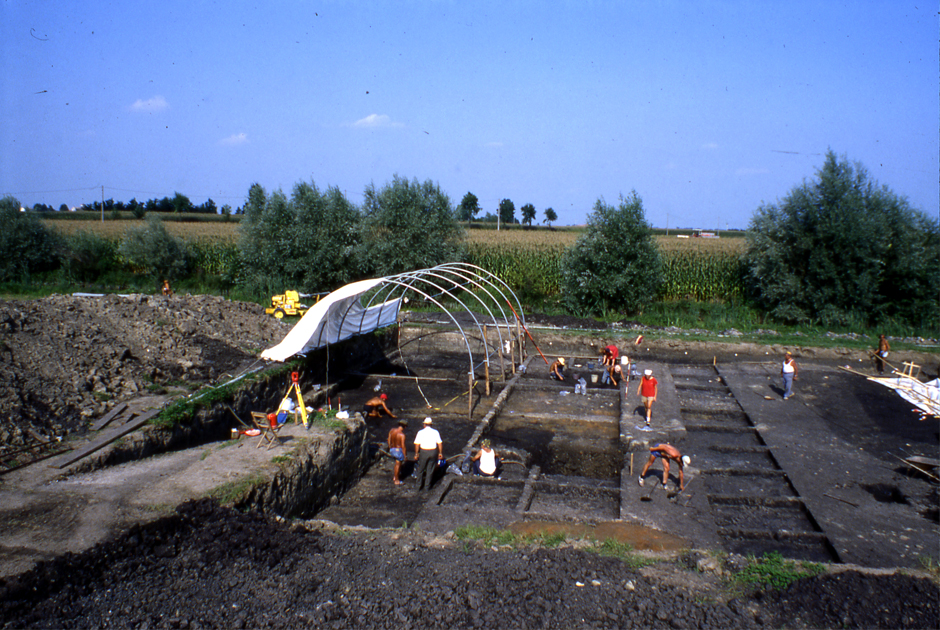 IT-LM-06
The area of the Lagazzi excavation in 1984 © Archivio Fotografico del Museo Archeologico Platina
 Piadena (CR) |  Lagazzi del Vho
Short Description
Lagazzi del Vho is one of the few areas of the Po valley that remains in its natural state, which is why it was declared a "Natural Monument" in 2002. It is an elongated basin, part of an ancient river bed, that houses an important Bronze Age pile-dwelling settlement, discovered at the end of the 19th century. The village, dating to the Early and the Middle Bronze Age (1800-1500 BC), covering a little more than two hectares, was formed of houses spaced with some distance between each other. The finds largely consist of pottery, but also antler and bone artefacts and rare objects in bronze.
 Bronze Age
 Early - Middle Bronze Age / 1700 - 1500 B.C.
 Po valley
 28 m.a.s.l.
Size of the site 2,77 ha / approx. 4 soccer pitches
Size of the bufferzone 18,45 ha / approx. 26 soccer pitches
Special Features & Highlights
Among the artefacts found at the Lagazzi are a rare bronze axe of a kind found in central Europe (Rümlang type) and an amber necklace of Baltic origin.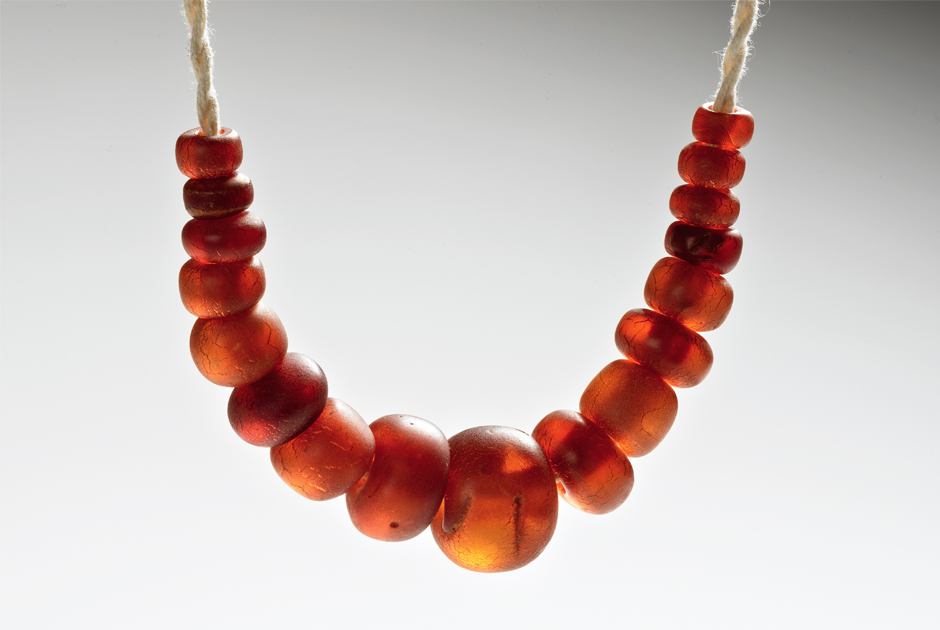 Necklace with 17 amber beads of Baltic origin © Archivio Fotografico del Museo Archeologico Platina
Current Activities
From spring to autumn, the museum Museo Platina, in the central square of Piadena, organizes educational visits to the site and offers visits to the collections and workshops for children (offers are available for schools). In the museum, it is possible to visit the houses of an ancient pile dwelling by means of a virtual reconstruction. The reconstruction of some houses on poles at the site is also underway.
Pile Dwellings up close
The Lagazzi site lies south of the hamlet of Vho (the road, which is unpaved in the last section, starts just before the church) and can be reached by a track marked with signs. The area is also part of the local network of cycle routes. There are no visible structures, but a visitor's route with informativesigns about the area of natural interest has been set up, which makes it possible to imagine the area in ancient times and appreciate the local geomorphology. The UNESCO sign of the site marks the beginning of the path.

Museo Archeologico Platina
Piazza G. Garibaldi, 3, Piadena (CR)
+39 0375 380131
to the website