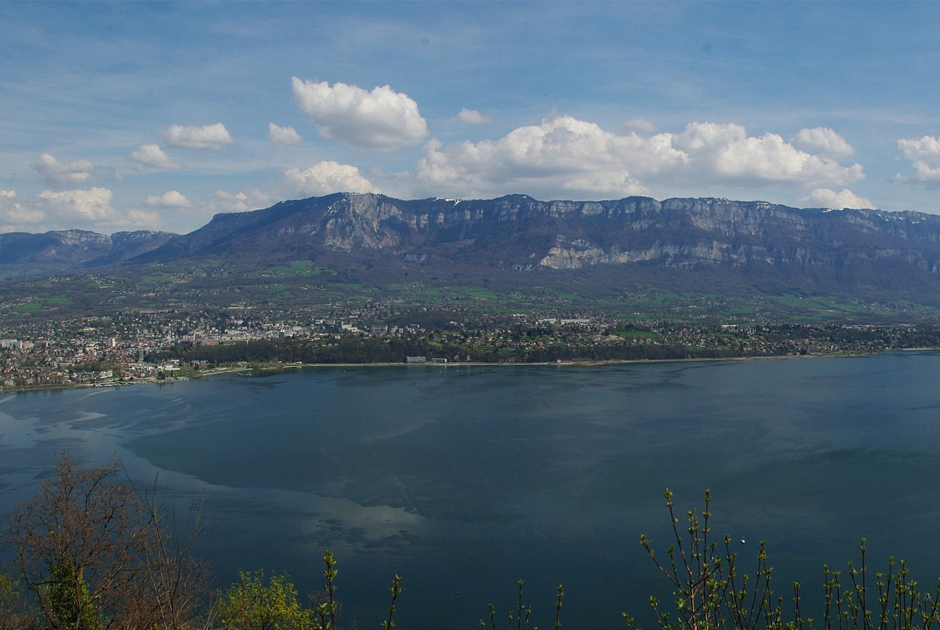 FR-73-07
View of the Tresserve coastline from the west shore of Lac du Bourget © MC - DRASSM, Yves Billaud
 Tresserve |  Littoral de Tresserve
Short Description
The pile dwellings of Le Saut were discovered in 1862. Like at the other two sites of Grésine, many archaeological objects were recovered by "lake antiquities fishermen" for about half a century thereafter. Detailed examinations by divers were first made in the 1960s and 1970s. In 1994, a series of core sampling indicated very good preservation of the archaeological layers. In 2002, due to a development project on the shoreline, the entire site was assessed by coring and stratigraphic trenching. From 2003 to 2005, additional surveys were carried out. Today, the site is submerged under 3 to 6 m of water, and extends over 200 m in length and 75 m in width.
 Bronze Age
 Late Bronze Age around 1068, 986 and from 931 to 805 B.C.
 Lake Bourget
 227 m.a.s.l.
Size of the site 2,03 ha / approx. 3 soccer pitches
Size of the bufferzone 72,04 ha / approx. 101 soccer pitches
Special Features & Highlights
Le Saut is one, if not the major, pile dwelling site at the Savoie lakes, because of its size, the duration of occupation and the state of its preservation. The artefacts are abundant with large quantities of high quality ceramics, wooden objects (container, adze handle, side post of a large stretcher...) and perishable materials like basketwork and esparto. During recent operations, a kiln, type "Sévrier" was discovered and a large structure of alder piles was brought to light, dating to the Early La Tène (450-250 B.C.).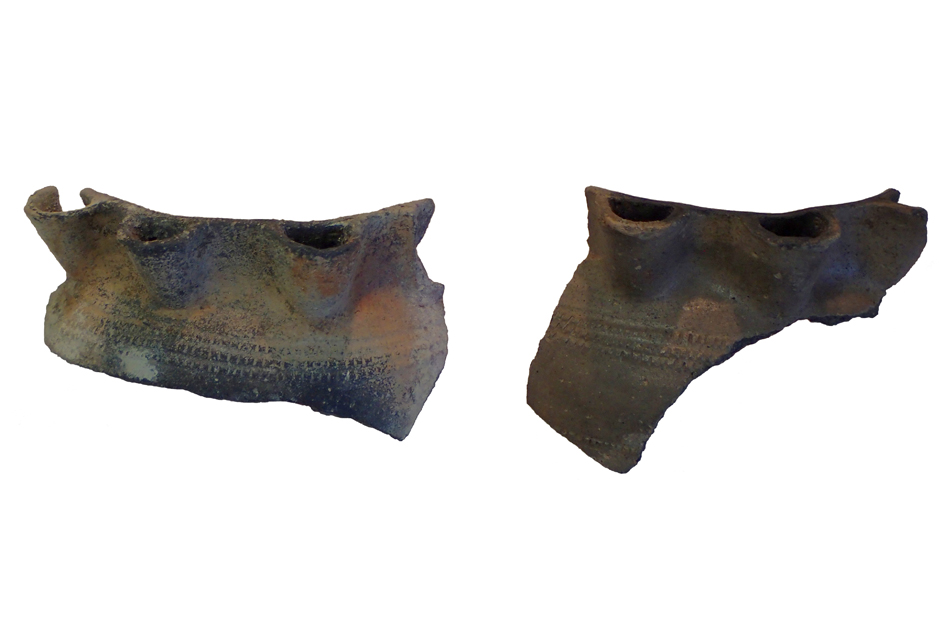 Two shards of the very same vessel; a "kernos". The one on the right was dredged in the 19th century, the one on the left, was discovered in 2004 © MC - DRASSM, Yves Billaud
Current Activities
The site was reviewed in 2017 as part of the monitoring program
Pile Dwelling up close
The site is not visible.

The Musée Savoisien in Chambéry has an important collection of objects from the pile-dwellings of Lac du Bourget that were discovered predominantly during the 19th century. It is currently undergoing a complete overhaul, and a selection of the objects will soon be presented again in a new scenography.
Musée Savoisien
Square F. de Lannoy de Bissy,
73000 Chambéry
to the website