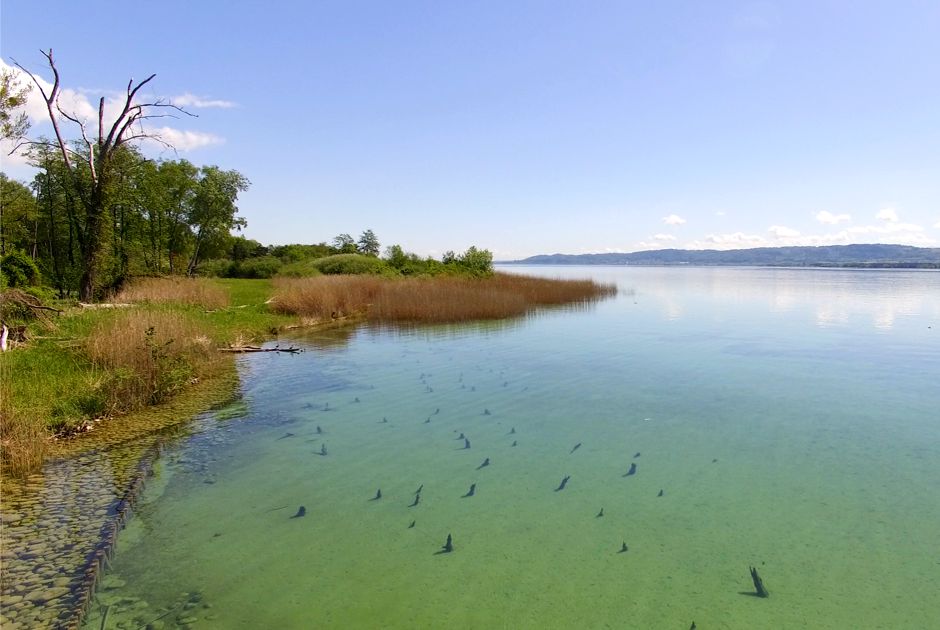 CH-VD-10
Pictured is the inundated area of the lacustrine site of Corcelettes, les Violes. Late Bronze Age © Studio NVP
 Grandson Corcelettes |  Les Violes
Short Description
The site of Corcelettes Les Violes has been known since 1855. Between 1876 and 1910, early pile dwelling researchers recovered a trove of pottery, tools and bronze jewelry, which later made their way into the collections of the Museums of Yverdon-les-Bains and Lausanne, and other museums across Europe. This site is one of the best known Late Bronze Age lacustrine sites in all of Switzerland. Several settlements were occupied for at least two hundred years, and the archaeological sediments are very well preserved. The archeological remains are located partially in the lake under water, and partially in the floodplain under trees and brush. The sediments have a thickness of between two and three meters and contain six archaeological layers. During prospecting of the shoreline, a wheel made of ash wood was discovered, which was built during the final years of the site's settlement.
More information is available at the Historisches Lexikon der Schweiz
 Bronze Age
 Late Bronze Age, 1062-862 B.C.
 Lake Neuchâtel
 427-430 m.a.s.l.
Size of the site 2,59 ha / approx. 3-4 soccer pitches
Size of the bufferzone 16,78 ha / approx. 24 soccer pitches
Special Features & Highlights
The bay of Corcelettes is home to several prehistoric lacustrine settlements, from the Late Neolithic, to the Early Bronze Age, and the Late Bronze Age (Station of Violes)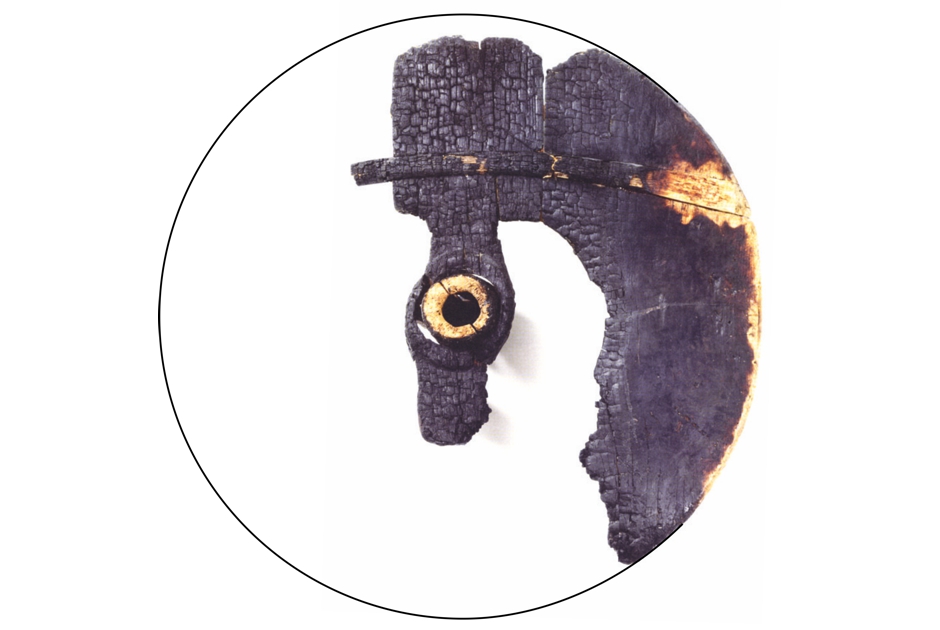 Partially charred wheel made of ash wood. It was recovered at the station of Violes and was constructed by a complex arrangement of eleven separate pieces of wood. Reconstructed diameter: 85© Musée cantonal d'archéologie et d'histoire Lausanne, Yves André
Pile Dwelling up close
The archaeological artifacts that were recovered from the sites of the Neuenburgersee in the Canton of Waadt are exhibited in the Cantonal Museum for Archaeology and History in Lausanne and in the Musée d'Yverdon et région à Yverdon-les-Bains.
Musée cantonal d'archéologie et d'histoire
Palais de Rumine
Place de la Riponne 6
1005 Lausanne
+41 21 316 34 30
to the website

Musée d'Yverdon et région
Le château
1400 Yverdon-les-Bains
+41 24 245 93 10
to the website