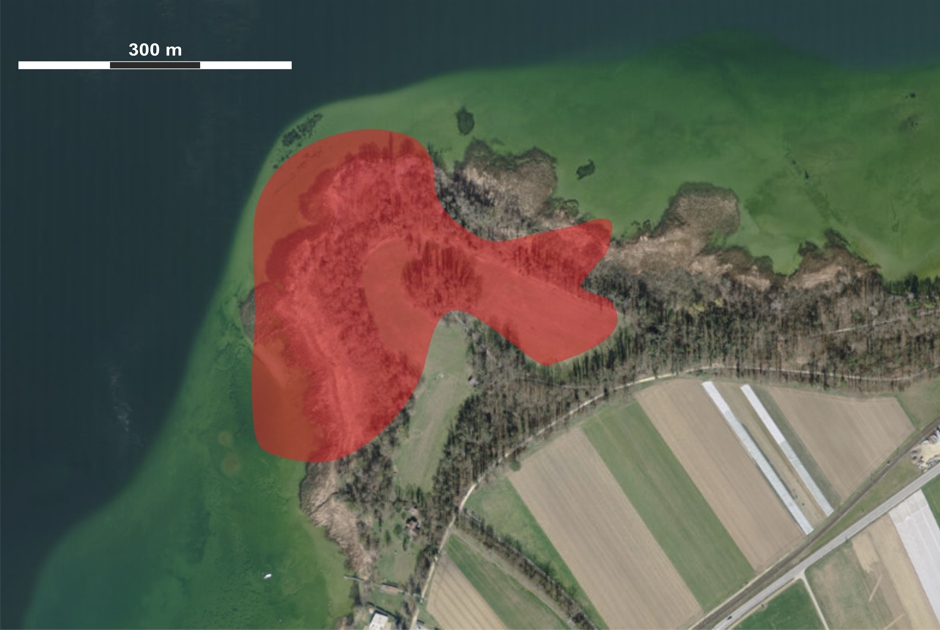 CH-FR-03
Extent of the different occupation periods of the Greng-Spitz site, Neolithic and Late Bronze Age © geodata : Office fédéral de la topographie, graphic: P. Corboud
 Greng |  Spitz
Short Description
currently only available in French
La pointe de la presqu'île de Greng comprend quatre stations datées du Néolithique moyen, du Néolithique final et du Bronze final. Cette dernière, connue depuis 1888, se développe à l'extrémité de la pointe, sur terre ferme et dans le lac. Elle subit une forte érosion lacustre, suite à l'abaissement du niveau des eaux des Trois-Lacs. Les premiers relevés des pieux ont eu lieu en 1921. Depuis, elle a fait l'objet de mesures de protection sur la rive et de relevés topographiques en 2014 et 2015. Les stations du Néolithique moyen s'étendent au sud et à l'ouest, sous la roselière, elle est aussi touchée par l'érosion. Quant à l'occupation du Néolithique final, au sud-est, elle a été perturbée par les travaux de dragage réalisés en 1865.
 Neolithic / Bronze Age
 Middle Neolithic (3864 - 3820 B.C.), Late Bronze Age (1065 - 954 B.C.)
 Lake Morat
 429 m.a.s.l.
Size of the site 7,69 ha / approx. 11 soccer pitches
Size of the bufferzone 7,30 ha / approx. 10 soccer pitches
Special Features &] Highlights
currently only available in French
Au sud-ouest de la station, immergée sous deux mètres d'eau se trouvent deux monticules circulaires de galets ainsi que des pilotis d'une quatrième station lacustre, jusque-là inédite. La fonction des cercles de galets, vraisemblablement en relation avec les sites palafittiques proches est encore inconnue, mais on pourrait trouver un parallèle avec une série de plus d'une centaine de dépôts circulaires de galets, découverts récemment sous les eaux du canton de Thurgovie, sur la rive sud-ouest du lac de Constance, à destination cultuelle?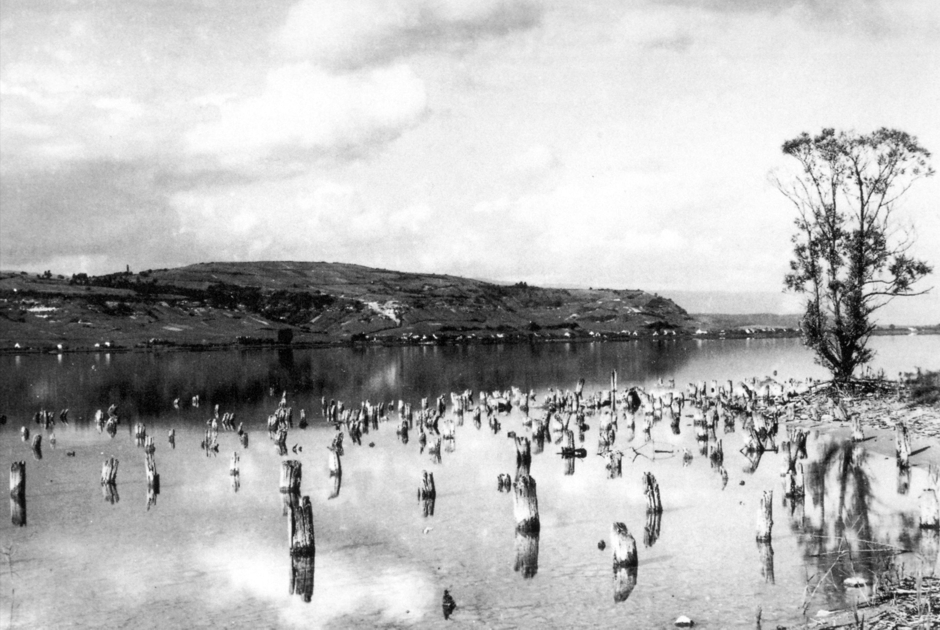 Late Bronze Age piles from the site Greng, come to light during the 1921 drought © Service archéologique de l'Etat de Fribourg