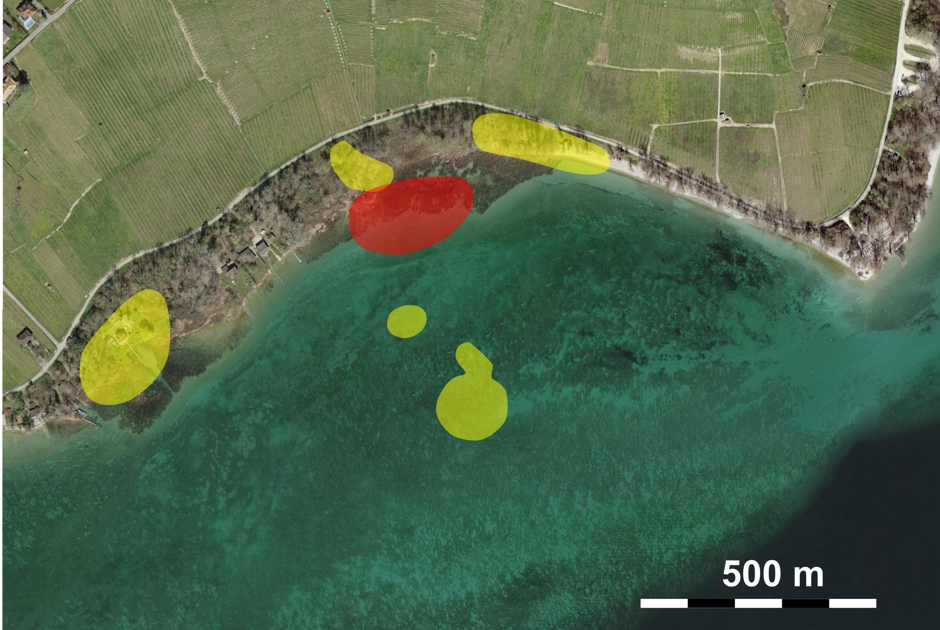 CH-NE-04
Bay of Bevaix, in red: UNESCO site L'Abbaye 2, in yellow: associated sites © Geodaten : SITN Neuchâtel, graphic: P. Corboud
 Bevaix |  L'Abbaye 2
Short Description
currently only available in French
La station de L'Abbaye 2 est située dans la baie de Bevaix, sur une vaste terrasse littorale, bien protégée à l'est par La Pointe du Grain. Découverte au milieu du XIXe siècle, cette station est immergée dans sa partie aval et aujourd'hui partiellement érodée. La moitié côté terre est en grande partie recouverte par une roselière. Observée sur une longueur de 150 m et sur une largeur de 80 m, elle aurait été reliée au rivage par un chemin ou une passerelle, aménagée à l'est d'une station néolithique toute proche. Les premières datations dendrochronologiques obtenues sur 11 pieux proposent une longue durée d'occupation du village pendant le Bronze final, de 1057 à 878 av. notre ère. Quelque 400 objets, contemporains de cette époque y ont été récoltés : armes et parure en bronze, fragments de poteries, torches-support en céramique et perles en verre.
 Bronze Age
 Late Bronze Age
 Lake Neuchâtel
 428 m.a.s.l.
Size of the site 1,04 ha / approx. 1-2 soccer pitches
Size of the bufferzone 5,01 ha / approx. 7 soccer pitches
Special Features & Highlights
currently only available in French
Le village Bronze final de l'Abbaye 2 est occupé pendant près de deux siècles, tandis que des villages plus modestes de la baie de Bevaix, un peu plus récents mais de la même période sont habités pendant des périodes plus brèves. Ces derniers pourraient correspondre à des établissements qualifiés de "satellites", en liaison avec le village "pionnier" établi au centre de la baie.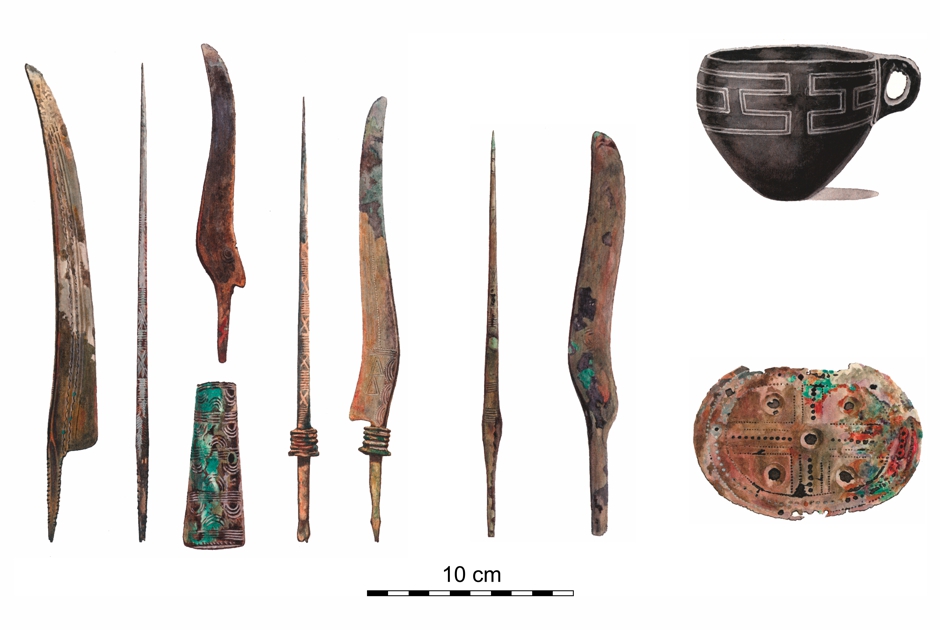 Watercolour of bronze finds collected from the L'Abbaye 2 site. Drawing by Maurice Borel ca. 1924 © Laténium
Pile Dwellings up close
currently only available in French
Le mobilier de la commune de Bevaix est conservé au Laténium.
Laténium, parc et musée d'archéologie
Espace Paul Vouga
2068 Hauterive
+41 32 889 69 10
latenium@ne.ch
au site web