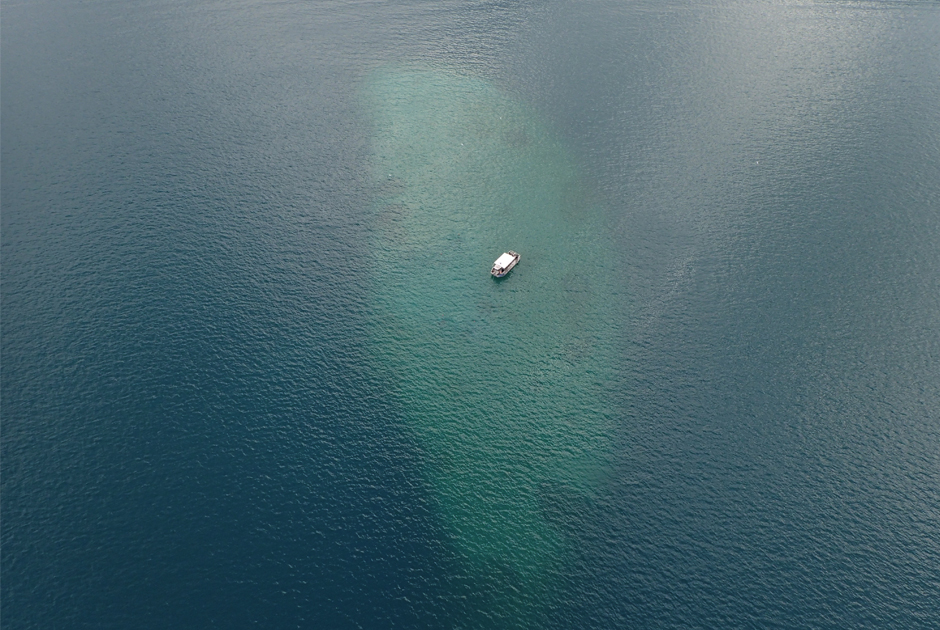 FR-74-05
Aerial view of the site © Gendarmerie Nationale
 Sevrier |  Le Cret de Chatillon
Short Description
The site has the distinctive feature of being located on a shoal, 800 m from the current shore. The settlement area is about 180 m long and 50 m wide, currently under 4 m of water, and surrounded by 40 m depths. It was discovered in 1856, and was the subject of various interventions from 1970 to 2000. Current surveys show a dense occupation of the entire space, with an organization along two orthogonal axes. A picket fence follows the edge of the island. Erosion is a considerable danger, but recent studies show that the archaeological layers still remain protected.
 Bronze Age
 Late Bronze Age, 1100/1050 and 917 à 900 B.C.
 Annecy Lake
 443 m.a.s.l.
Size of the site 1,07 ha / approx. 1-2 soccer pitches
Size of the bufferzone 8,2 ha / approx. 11 soccer pitches
Special Features & Highlights
Archaeological remains are few, due to heavy erosion, but in 1967 a logboat was discovered, and a set of thick fired clay fragments were spotted. These fragments were collected in 1974, and reassembledinto a structure with a diameter of 70 cm and a height of 50 cm. It is in two parts, has a perforated hearth at the base, and a chimney at the top. The interpretation as a pottery kiln has recently been called into question, with a functional hypothesis related to culinary uses.
During recent work, various objects have been discovered, like bronze knives, bracelets, spearhead, pendants and rings, as well as millstones and hammerstones. A remarkable point is the discovery of a dozen pebbles with peripheral grooves, which were only known from a very few examples in the Savoie lakes.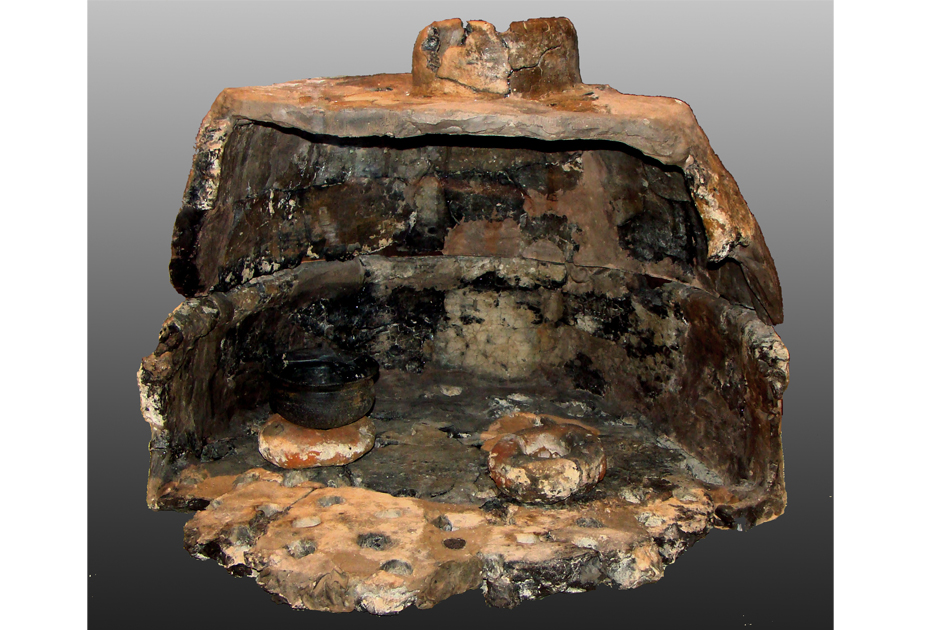 The "kiln of Sévrier" © Musée Château Annecy, É. Champelovier
Current Activities
The 2015 and 2016 monitoring surveys rekindled interest in the site. Since then, topography campaigns have been carried out every year.
Pile Dwellings up close
The kiln and a selection of artifacts are on exhibition at the Musée Château d'Annecy, in the rooms of the Regional Observatory of Alpine Lakes.
Musée Château d'Annecy
Place du château
74000 Annecy
+33 (0)4 50 33 87 30 / +33 (0)4 50 33 87 34
musees@annecy.fr / reservation.animations@annecy.fr
to the website