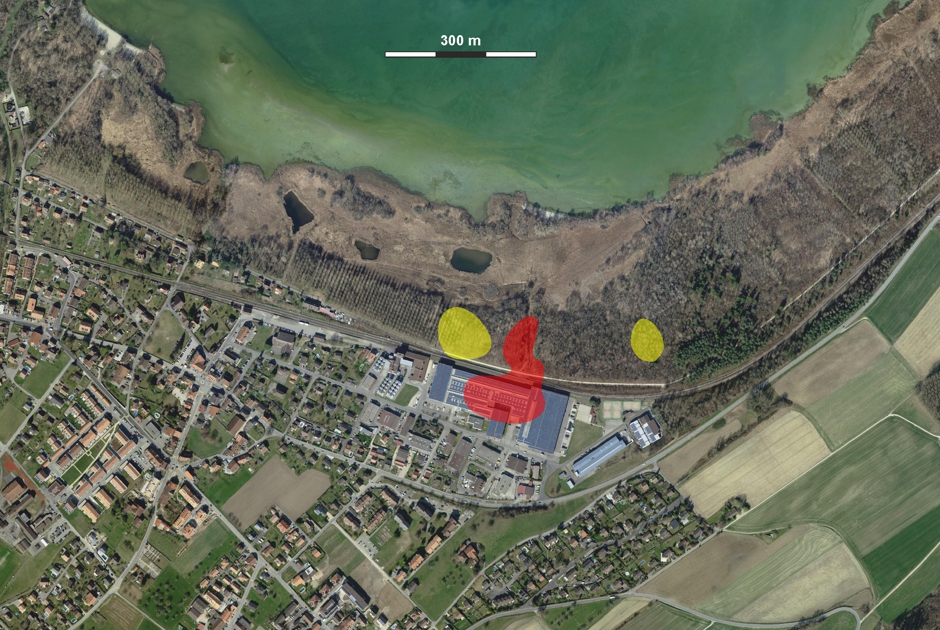 CH-VD-16
Ensemble of the known pile dwelling settlements of Yvonand, in red: UNESCO sites, in yellow: associated sites © Geodata : état de Vaud, graphic: Pierre Corboud.
 Yvonand |  Le Marais
Short Description
currently only available in French
La baie d'Yvonand abrite une zone archéologique qui comprend cinq établissements préhistoriques littoraux, situés en terrain émergé. Les trois les plus importants se recoupent partiellement, au lieu-dit le Marais (Yvonand II, IV et V). Les occupations les mieux conservées appartiennent au Néolithique final, elles correspondent aux cultures de Horgen et de Lüscherz ; un dernier village a été occupé à l'âge du Bronze final. Ce site est essentiel pour la connaissance de l'histoire du peuplement néolithique de la Suisse occidentale, car il s'agit du point le plus occidental de découverte du Horgen en Suisse, il témoigne ainsi de la transition entre les cultures de Horgen et de Lüscherz.
La distribution des différentes occupations, selon un axe qui va de la terre vers le lac, est représentative de l'adaptation de l'habitat aux diverses fluctuations du niveau des eaux.

Veulliez trouver plus de details dans le Dictionnaire historique de la Suisse DHS
 Neolithic / Bronze Age
 Late Neolithic (Horgen culture and Lüscherz group), Late Bronze Age
 Lake Neuchâtel
 430 m.a.s.l.
Size of the site 1,95 ha / approx. 3 soccer pitches
Size of the bufferzone 16,92 ha / approx. 24 soccer pitches
Special Features & Highlights
currently only available in French

Le mobilier céramique appartenant aux cultures de Horgen et de Lüscherz est particulièrement bien représenté sur ce site. Deux épingles en cuivre à tête enroulée attestent de la première métallurgie du cuivre en Suisse occidentale.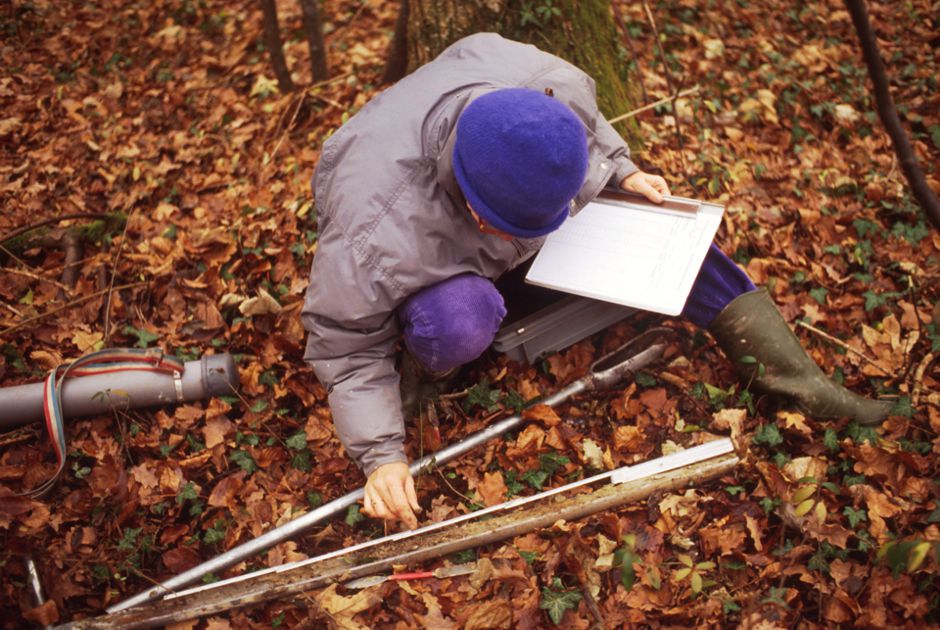 Description of a drill core, during a manual extraction in the pile dwelling settlements on the south shore of Lake Neuchâtel © Université de Genève
Pile Dwellings up close
currently only available in French
Les objets archéologiques récoltés sur les sites des rives vaudoises du lac de Neuchâtel sont exposés au Musée cantonal d'archéologie et d'histoire de Lausanne
t au Musée d'Yverdon et région à Yverdon-les-Bains.
Musée cantonal d'archéologie et d'histoire
Palais de Rumine
Place de la Riponne 6
1005 Lausanne
+41 21 316 34 30
to the website

Musée d'Yverdon et région
Le château
1400 Yverdon-les-Bains
+41 24 245 93 10
to the website